-- close items
HID BADGE READERS
HID offers a vast range of products from which Omnibus has selected the iClass line. The badges in this line have distinct identifiers that are specifically linked to our company, making them absolutely unique. Being HID partners gives us direct and prioritized access to new products, and to product development, sales and customer support.
HID MOBILE ACCESS
HID Global offers mobile authentication that allows you to use your smartphone as a virtual badge.
Bluetooth technology and an Androidor iOSsmartphone, Mobile Access is compatible with the most recent HID readers.
The access credentials are sent by e-mailand are managed through a dedicated portal.
OmniBus is one of eight certified European retailers of this product.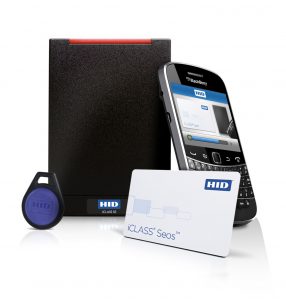 BADGE READERS WIRELESS
Expand your access control system with Assa Abloyd Aperio wireless technology.
Wireless badge readers solution by Assa Abloyd Aperio.
Wireless badge readers do not require modifications or connections to be made to doors. Badges have a battery life of 3 years (40,000 door openings). Readers are integrated into the OmniAccessaccess control and run seamlessly, just like wired readers.
TBS BIOMETRIC TECHNOLOGY
When a biometric recognition system is required, OmniBus proposes TBS Biometric products.
TBS is a Swiss company that specializes in the production of 2D and 3D biometric readers, where 3D does not require the placement of a finger on a panel.
The readers can be equipped with personalized touch panels and can be either built in or have external wall mounting. The readers are connected via LANand the biometric data is automatically synchronized.
USB enrollment readers for PC are also available.
TBS products are completely integrated with, and can be fully managed through, OmniAccesSuite.
OMNIDOORS GATES
We provide the installation of interlocking automatic and revolving doors which are at the state of art from a technological and esthetic point of view.
These patented products elevated the security, esthetics and efficiency standard of the control of the flow of people. We have installations among bank institutes, airports, public and private buildings thanks to our solid decennial experience and thanks to the innovative spirit of our team.
These products are specific for sites in which special attention towards security and reliability is needed (functioning guaranteed even in absence of electricity) and where a special regard towards the people flow is needed (from the metal detector to the identification recognition).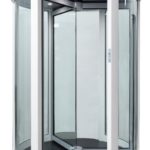 FIELD SERVER
Field-Server

This module acquires access point configurations from the OmniAccesSuite software along with all access rules (e.g., badges, rights, time blocks). All system events are memorized and made available to the Suite.
The Field-Server module autonomously manages up to 16 readers, 8-16 access points, 1500 time blocks, more than one million badges and more than five million of events.
It has digital I / O that allows standalone use for the management of a single gate.
Datasheet »
Plug-In Lonworks [FS WEC R.1.1.0]
Plug-In Lonworks [FS XP R.1.5.2]
Plug-In Lonworks [FS R.1.11.0]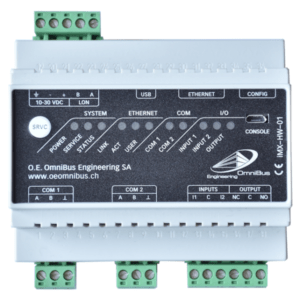 GATE CONTROLLER
FT6K-GC-225
One single module for the integrated and complete management of every monitored access point.
The Gate Controller allows you to manage up to two independent access points, two badge readers, two electric door locks, magnetic sensors and acoustic notifications.
Datasheet »
Plug-In Lonworks [R .1.0.0]
OmniACCESSis the hardware and software platform created especially for access control. Designed using LonWorks® technology, it guarantees communication between all control and tracking devices.
The LonWorks bus integrates the access control installation with the building automation system. For example, this enables lights to be turned on, blinds to be drawn, and the temperature to be regulated through a badge authentication
Thanks to its flexibility and reliability, OmniAccess represents the perfect solution for the automation of personnel management and for the surveillance of access areas. OmniBus's options cover a vast range of control devices starting from contactlessto biometric readers, as well as access types such as revolving doorsand security portals.
All details found in our OmniACCESS presentation »
HID ADVANTAGE CHANNEL PARTNER
Omnibus is one of HID Global's partners, a world-leading American manufacturer of secure identity systems through badges and mobile access.
OmniAccessSuite : Our Software Suite
OmniAccessSuite is the innovative and flexible solution for access control.
The product, developed using the most recent information technology, enables the management of all access control issues. OmniAccessSuite can handle an unlimited number of access points and badges.
OmniAccessSuite consists of the fundamental components OmniConsole and OmniGateway.
OmniConsole makes every required function available to configure all locations, users, groups, connections (such as access points), readers, scheduled and unscheduled time blocks, as well as areas, security levels and access modes.
OmniConsole integrates all functions for the management of operators and profiles, authorized functions, password access and system log on. Searching, printing and exporting data are always available to authorized operators so defined within the system.
The OmniGateway component autonomously manages hardware modules (FieldServer) by programming, analyzing and gathering data. FieldServer is available on the network and is dedicated to access control management in real time.
The package is completed by numerous available plugins. These plugins, either integrated in the OmniConsole or active in the background, add functionality to the system.